Apex Ultralight Rigid Carbon Fiber Wheelchair
Apex Ultralight Rigid Carbon Fiber Wheelchair











Pictures May Show Upgrades
Motion Composites
(Model:
APWC12)
What's Included

Limited LIFETIME Warranty
This Apex Carbon is a Brand New, never used wheelchair straight from Motion Composites, manufactured in 2018. This rigid wheelchair is constructed from carbon fiber, making it the lightest wheelchair on the market when fully configured. This Apex Carbon Wheelchair is the perfect choice for a user with an active lifestyle that wants the absolute best wheelchair available in Brand-New condition, Limited LIFETIME Warranty, at a fraction of the original cost.
This product is sold out!
The Apex Ultralight Rigid Carbon Fiber Wheelchair from Motion Composites uses the world's most advanced technologies to enhance people's lives with every single push. The cutting-edge carbon fiber technology delivers an ultralight design of unrivaled strength and durability. With its superior fatigue resistance, extreme temperature tolerances and vibration dampening, carbon fiber is one of the strongest yet lightest materials on earth. Carbon fiber is truly the ultimate wheelchair material.
The Apex Carbon Fiber Rigid Wheelchair redefines how the world thinks about wheelchairs. With a transport weight of just 9.2 lbs. (4.2 kg), the revolutionary design gives you the lightest, fully adjustable rigid chair in its class. Motion Composites' Apex Carbon Fiber wheelchair surpasses every expectation for performance, adjustability, weight and quality.
Features
The Lightest Wheelchair in it's Class
With a transport weight of just 9.2 lbs.* (4.2 kg), the APEX obliterates every preconceived idea about rigid chairs. It's fully configurable to meet the needs of just about every client, and performs like a carbon fiber purebred.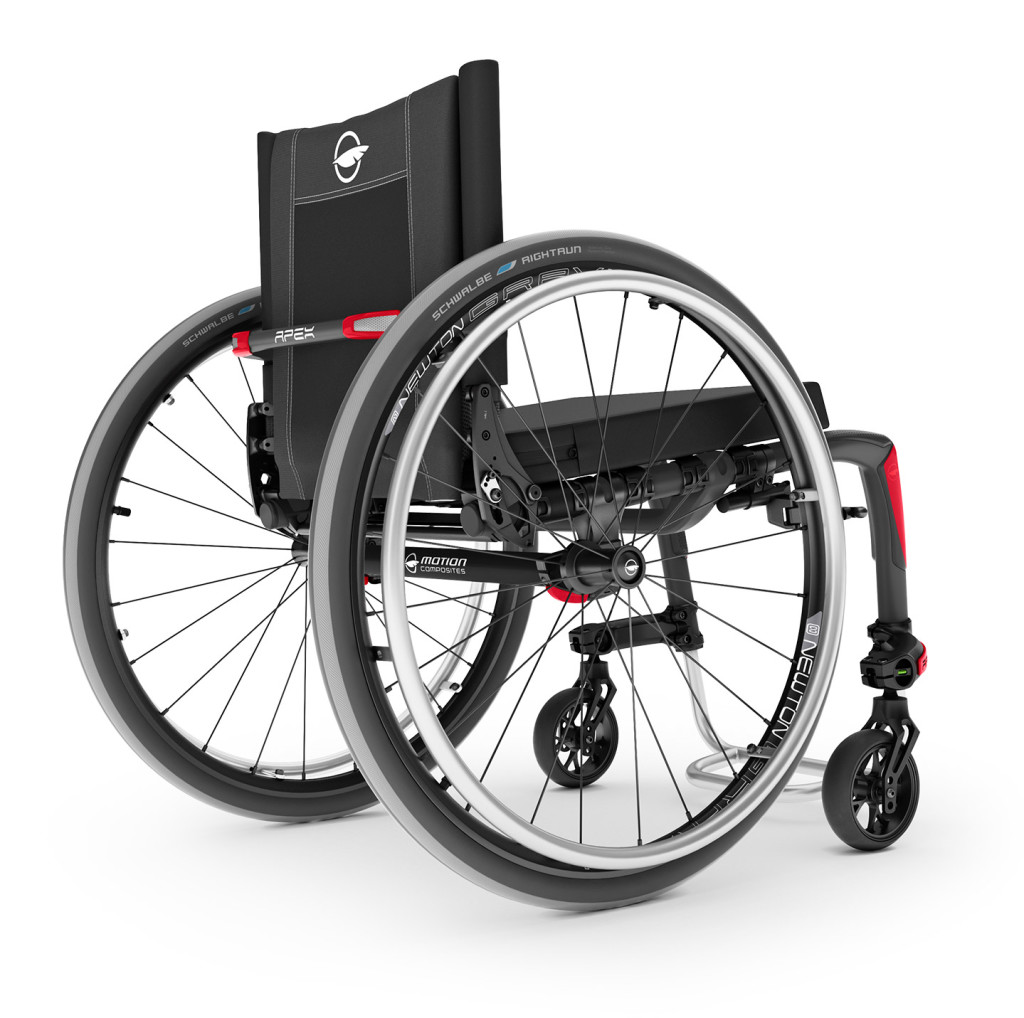 Adjusts to Your Life
As people change and evolve, so should their wheelchairs. From simple adjustments in back angle, seat and floor height to tunable rear wheel positions and seat width, the APEX is fully modular and adjustable. Plus, its laser-etched markings allow you to more easily adjust key components and specify exact positioning.
Shed the Weight, Up the Performance
The Apex cantilever design is constructed using the industry's most advanced materials. Plus, the Apex represents not just low frame weight. It's also the lightest configured adjustable chair in the industry. A fully configured Apex Carbon weighs just 15.5 lbs. (7 kg).
Nimble & Responsive
The unique rear rigidizing bar on the Apex optimizes ride performance. By increasing rear-frame rigidity, we've achieved an open design concept that increases lateral stability. Result — flex where and when you want it, and no sacrifice in stability for gains in comfort and ease of transport.
Specifications & Upgrades
| | |
| --- | --- |
| Model | Apex Ultralight Rigid Carbon Fiber Frame $4295 |
| Model NO. | APWC12 |
| Seat Width | 18" |
| Seat Depth | 16" |
| Front Seat-to-Floor Height | 17" |
| Rear Seat-to-Floor Height | 16" |
| Casters | Newton UltraCaster Soft-Roll Aluminum $185 |
| Front Frame Angle | 85° |
| Seat Upholstery to Footrest Length | 15" |
| Footrest Width | 13.5" |
| Footrest Taper | 1" |
| Rear Wheels | Newton Gravity Ultralight Wheel 24" $300 |
| Rear Tires | Pneumatic HP Schwalbe Marathon Plus 1" $125 |
| Handrims | Newton Air Grips - Steel Blue $240 |
| Handrim Position | Standard |
| Axles | Quick Release |
| Rear-Wheel Camber | 2" |
| Footplates | Flip back, adjustable angle, Carbon Fiber $275 |
| Calf Straps | Calf Strap $35 |
| Fold Down Backrest | Locking Backrest |
| Adjustable Angle Back | Adjustable angle, straight back cane 15"-18" |
| Back cane angle | 93° |
| Backrest Options | 3" Deep rigidizer bar |
| Back Upholstery | Apex Adjustable tension back upholstery $300 |
| Center of Gravity | 2.5" |
| Wheel Locks | Scissor Lock $240 |
| Swingaway Armrests | Removable Carbon Fiber Side Guards $290 |
| Positioning Belt | Auto Buckle 35" $85 |
| Anti-Tippers | Anti Tippers $140 |
| Highlight Color | Sky Blue |
Total Cost with Upgrades:$6510
| | |
| --- | --- |
| Model | Apex Ultralight Rigid Carbon Fiber Frame |
| Model NO. | APWC12 |
| Seat Width | 18" |
| Seat Depth | 16" |
| Front Seat-to-Floor Height | 17" |
| Rear Seat-to-Floor Height | 16" |
| Casters | Newton UltraCaster Soft-Roll Aluminum |
| Front Frame Angle | 85° |
| Seat Upholstery to Footrest Length | 15" |
| Footrest Width | 13.5" |
| Footrest Taper | 1" |
| Rear Wheels | Newton Gravity Ultralight Wheel 24" |
| Rear Tires | Pneumatic HP Schwalbe Marathon Plus 1" |
| Handrims | Newton Air Grips - Steel Blue |
| Handrim Position | Standard |
| Axles | Quick Release |
| Rear-Wheel Camber | 2" |
| Footplates | Flip back, adjustable angle, Carbon Fiber |
| Calf Straps | Calf Strap |
| Fold Down Backrest | Locking Backrest |
| Adjustable Angle Back | Adjustable angle, straight back cane 15"-18" |
| Back cane angle | 93° |
| Backrest Options | 3" Deep rigidizer bar |
| Back Upholstery | Apex Adjustable tension back upholstery |
| Center of Gravity | 2.5" |
| Wheel Locks | Scissor Lock |
| Swingaway Armrests | Removable Carbon Fiber Side Guards |
| Positioning Belt | Auto Buckle 35" |
| Anti-Tippers | Anti Tippers |
| Highlight Color | Sky Blue |
Limited Lifetime Warranty from Manufacturer